Moving to Zurich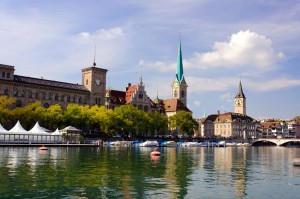 Moving from London to Zurich? Seeking a reliable removals company? If you have answered yes to both of these questions, look no further than Moving Service because we can offer you exactly what you are looking for: A smooth move from London to Zurich. Yes, we can indeed. Moving does not have to be stressful and chaotic. In fact, we can turn that right round for you if you hire us for your removals. We have had a great amount of experience in both domestic moves and international moves. In other words, we are the best removals company for you. In addition to our wealth of experience, we are proud to tell you that our services are great, our staff is great, and our prices couldn't be greater! You can't lose when it is us you choose. Thanks to our excellent removals team, your move can be entirely stress-free. With their experience and know-how, you are guaranteed an easy move to Zurich. Over the years we have dealt with a number of stressful moves, but we've managed to deal with them accordingly. We want to help you next. So call us now on 020 8746 4402 and let's get started with your Zurich removals.
Zurich - a Large Place With Great Transportation and Scenery
The city of Zurich is the largest in Switzerland and has a population of about 390,000. There are numerous ways you can get to Zurich; by plane, by train, by bus, by car and by boat. As for transportation within Zurich itself, you won't have any troubles getting around because their transport system is fantastic – it's both efficient and safe. The old town of Zurich is, by far, one of the most interesting places to visit, what with its beautiful river and lakefront. Places to see in this area of town include Grossmunster, Landesmuseum, Kunsthaus, Fraumunster, Rietburg Museum, Langstrasse, Lake Promenade, Chinese Garden and Zurich West. This city also has a number of theatres, so if you are enthusiastic about theatre performances, you'll certainly like this area.
For a Zippy Zurich Move, We Are the Company to Choose
What makes moving so stressful is not having enough time to carry out all of the tasks that go with moving. This includes tasks like planning, packing and boxing, transporting and so on. It requires a great amount of time and effort, and so if you have very little of either of these it would be much better for you to rely on a professional removals company like Moving Service to assist you, rather than handling it all on your own. If you are moving from London to Zurich, you are probably concerned about the long trip. With our international contacts and wealth of experience in dealing with international removals, we can promise you a smooth and straightforward move. With our help you won't have to deal with the pressures and strains of moving. Instead, we will handle it all and we'll take the burden off of your shoulders. What more could you possibly ask for from a removals company?
Why We Are Different
What makes us stand apart from other moving companies in London is that we treat our customers with the utmost respect. We care about our customers and we want to make sure your move is easy and enjoyable – and not at all chaotic. If you would like to find out more information on our removal services, please do not hesitate to contact us on 020 8746 4402. You will be greeted by one of our helpful advisers who will assist you every step of the way and answer all your questions. Plus, they will give you an international moving quote – free of charge.