Moving to Stockholm

If you are unhappy with the removals company you are with currently, or if you just haven't found a good enough removals company yet, don't put up with it any longer. Moving Service can help. We are proud to tell you three things about our company, which are as such: our services are superb, our staff is excellent and our prices are more than reasonable. In other words, we are the ideal removals company for you. You should not have to put up with an incompetent removals company you are unsatisfied with. Instead, you should let a great removals company like us help you with your move from London to Stockholm. Moving is incredibly hard anyway, but when you move to another country it is even more demanding. In addition to our international removal services we offer a range of other removal services including packing and boxing, storage, man and van, home removals, and office moves. All of our services are carried out by our team of experts that have an immense amount of experience in moving. For a moving quote, completely free of charge, call us now on 020 8746 4402 and find out why we are the best company to choose when it comes to your Stockholm move.
Stockholm - the Largest City in Sweden
Stockholm is both the largest city and the capital city of Sweden. It has a population of almost 2 million people. It is an extremely cosmopolitan city that is the perfect location for those seeking an exciting place to visit. This city has a number of great tourist attractions and places of interest. You shall never grow bored whilst you are in this city. If you are interested in architecture, there's no better place to see than the City Hall and the archipelago. There are many other interesting buildings in this city that are a must-see. If you enjoy admiring beautiful buildings and architecture, you will definitely find a lot of that here in Stockholm. There are many museums and art galleries here as well. Most people are familiar with this large Swedish city, but what most people probably do not know is that it offers so much to tourists. Most of the city can be accessed by foot or bike. It really is an exciting city to visit.
We Are the Best Company to Choose for Your Stockholm Move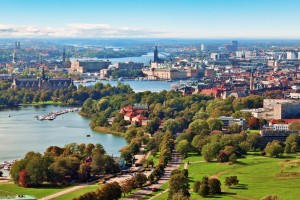 Moving Service has, over the many years that have done by, moved a huge number of people to and from homes across the globe. We can carry out your Stockholm move if you wish. You do not need to provide us with anything. We have the best materials and resources that money can buy. What really makes us stand out from the other London removal companies is that we boast a great team of movers. These guys have plenty of experience and skill to make your move to Stockholm entirely stress-free. They have dealt with so many moving scenarios over the years and this has only, fortunately for us, sharpened their skills and knowledge on moving. We are extremely proud to have them on the team.
What You Get When You Hire Us
The advantages to hiring us are simply never-ending. You'll save time, money, energy and stress. What more could you want? Moving is not easy. We understand that completely. Therefore, we would like to lend a helping hand. Moving is not a task you have to carry out single-handedly. You are welcome to ask us for help. You are entitled to help. So take advantage of that! Book a date today for your Stockholm move on 020 8746 4402 and you'll receive a free quote. Let's get cracking!