Moving to Helsingborg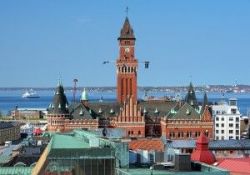 So you have decided to take the next big step in your life and relocate to Helsingborg. This is a big step and one that will have many challenges and exciting times for you. You may be moving to Sweden in order to work or to take up a dream job, in this case we are sure that you will greatly benefit from Helsingborg's progressive and booming economy with its focus on green technology and other high tech industries. Or perhaps, you are moving to Sweden to be closer to your friends and family, in which case you will no doubt enjoy all of the amazing culture and nightlife that the country has to offer. Helsingborg is full of amazing bars, restaurants, museums and more so that every taste is catered for in this modern Scandinavian country. Of course it would be unfair to mention all of that and not mention how splendidly beautiful the nature of the country is too. There are amazing views to be had in this winter wonderland, although it may not be the perfect place for any sun seekers! Moving Service understand that our clients need us to be as flexible as possible when we deal with their home relocation. This is because they already lead such busy lives and do not want to be hanging around waiting for a house relocation company to turn up. Because of this we offer a completely flexible and bespoke home removals service that is bound to leave you satisfied. To see just how low our prices are then just give us a call right now on 020 8746 4402. A friendly member of our team is ready and waiting to take your call right now- we will discuss your own home removals needs a give you a quotation that is tailored to those specific requirements. Whether you need a man with a van or a full international removals job, we can help you. We just know that you will love our service so call now!
Our International Removals Service Makes Moving from London to Helsingborg Easy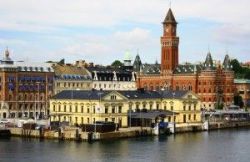 Our man and van can make your international home removals to Helsingborg so easy. We only use the very best in packing materials and vehicles to get the job done so that our clients can be sure of their items arriving intact. Many people worry about their goods being damaged during the transition and this is why we work diligently to ensure that no harm ever comes to our clients' goods. Home removals can be an expensive affair, even if we are just relocating down the road and this is why we always keep our prices consistently low. We know that a time like this, when money is at its tightest, that our customers really do appreciate this and so they come back to use our services time and again. It is this outstanding level of service and amazingly low prices that have made Moving Service the byword for excellence in international house removals.
Use Our Moving Company for Help with Your Move to Helsingborg
Whether you need a full removals team or simply a man with a van, we only employ trained house removals specialists who can help our clients with their years of experience in the international home removals field. They are diligent, polite and hardworking- ensuring that your home removal goes like a dream rather than a nightmare. Why spend any more time in looking for the perfect international house removals team when you have already found the best? Simply call us right away on 020 8746 4402 to get a free quotation and we will gladly be on hand whenever you need us.