Moving to Jyvaskyla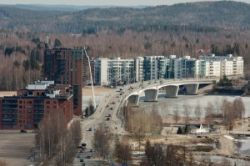 There are other London moving companies that may not take moving abroad as seriously as we do – in fact, we know there are. We have plenty of customers who come to us after a bad experience with one of them; they were charged too much, moving boxes were lost, damaged or misplaced, or the movers simply did not do a good enough job. If you've been burned by another international removals company then you know how serious it is to undertake a removal from London to Jyvaskyla. We take no shortcuts and we take nothing for granted. What the customer wants is what the customer gets in terms of removal services, customer service and budget and timeframe. One of the reasons our customers are always so pleased with our London removal services is that we deliver exactly what we promise. If you are on a small budget, we'll work with you to make sure you get the maximum help moving house for the minimum amount of money. If your timeframe is limited, we'll guarantee delivery dates so you won't have to worry about a thing.

Ring us up on 020 8746 4402 to begin your removal from London to Jyvaskyla today. You'll get a free quote right off the bat once you speak with one of our friendly customer service representatives and you can ask any question about your home removal along the way. We're really not joking when we say we're the best London Jyvaskyla movers you'll find, and we'll do it all from delivering moving boxes and packing them up to loading and transporting your belongings and furniture. Rely on us and leave the jokes to those other London movers.
Experience the Beautiful Sightseeings of Jyvaskyla
Central Finland is famous for the Lakeland area and the city of Jyvaskyla is one of the lakeside coastal cities there. The lake that helps to create such striking cityscapes is Lake Paijanne, but there are more than 100 others surrounding the city as well as beautiful hills and wooded areas. Only 170 miles from Helsinki to the north, Jyvaskyla is famous as the birthplace of Finnish-language education. More than 130,000 people make this city their home, which is much more than the Stone Age inhabitants, but still only ranks the city as the 7th largest in terms of population in Finland. You will never lack for sporting or cultural events when you make the move from London to Jyvaskyla.
Moving to Jyvaskyla is no Joke when You Hire
Moving Service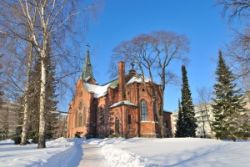 To find out more about how we can have you safely and quickly moved to Jyvaskyla without the hassle and prices of some of our competitors, ring us on 020 8746 4402 today. Or why not take a look around our website? We have some fantastic money-saving tips for DIY moves, moving abroad and others types of home removals. You're sure to find something useful and interesting. And for any questions you don't find answers to right here, we're just a phone call away.

We know that moving abroad from London to Jyvaskyla is serious business. Anytime you have to shell out money and seek services that you have never used before, it can be a time fraught with worry. But you don't have to worry about a thing if you hire Moving Service to help with your home removal. For London man and van or just to order some moving boxes, for a full-scale home removal or a small truck for hire, we're the company for you, and that's no joke!