Moving to Vaasa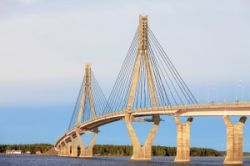 Whether you are moving down the street or across Europe, there's one London removal company that can take care of every aspect of your home removal. And that one London moving company is us! Leaving London for Vaasa is a change for many reasons. Geographically, you'll be in a different place. You'll be surrounded by different people, a different culture, different foods and a different language. There will be a lot of adjusting to do, both in terms of your living arrangements and making sure that you can find a good spot to eat when you arrive. Many people overlook the importance of being able to quickly settle down to a new routine once you get to your new home. By hiring us to do as much of your home move from London to Vaasa as possible, you can focus on the really important aspects of moving abroad: the adjustments that you and your family will need to make, right off the bat.
If it's Time for a Change, it's Time for
Moving Service
If you've already found a place to live, then you'll want to spend some time getting to know your neighbourhood and your new surroundings. You won't want to be stuck inside unpacking every dish and spoon that you own. Have us do all your packing and unpacking for you and you won't have to spend a minute elbow-deep in packaging materials and moving boxes. Instead, you can be out for a stroll, exploring your new home, knowing that everything is taken care of in your new place. Ring 020 8746 4402 now and you'll get a free quote for your London to Vaasa international removal, whether you want a man with a van or a team of professional movers to do the job. We always quote fairly and include the cost of insurance, so there will be no unpleasant surprises along the way and you'll know that your belongings are safe and sound. Start with a home assessment today and be on your way to Vaasa.
What Can You Find in Vaasa?
Vaasa is a medium-sized city – home to just over 65,000 people – on Finland's western coast. It is the capital of the region called Ostrobothnia and two thirds of its residents speak Finnish and one quarter speak Swedish. If its Swedish-Finnish culture you're looking for, this is the heart of it, largely because of that linguistic heritage. One of Vaasa's most attractive attributes is its higher education. The three universities located here make city one that takes education seriously. The Watertower, Market Hall and the Town Square are all iconic symbols of this coastal city.
The Specialised Movers in Vaasa to Call When Relocating
If you are a student and you are moving to Vaasa to study, you will likely be taking only the necessities and our London man with a van is the perfect fit for you. Get everything done at once and have us bring over the packing materials, pack them up and get you on the road as soon as possible. For a larger home with more than one bedroom and a removal that will require more services and moving boxes, we are the answer to all your questions. Moving Service can adjust our services to fit your needs, so whether you need more movers or mover moving boxes, we're just a phone call away. Ring 020 8746 4402 today for a free quote or to set up a home assessment. You'll be enjoying life in your new Vaasa home sooner than you could imagine. London Vaasa home removals are a snap when you have us behind your back.