Moving to Leipzig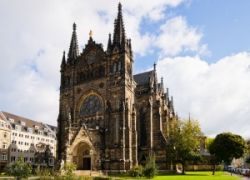 You'll have many choices, many decisions to make when you're moving from London to Leipzig. You won't have a more important decision to make however than deciding which removal carrier you should hire for your move to Germany. One way you can make that decision a lot easier for yourself to phone Moving Service on 020 8746 4402. By doing that and hearing our free personalised quote, you'll know that on price alone we'll the best value removals company you'll find for your move to Leipzig. Added to the range of removal services we can offer you plus our much praised quality of service you'll realise you've just found the perfect international removal company for your relocation to Leipzig. Why not call us now in fact and hear immediately why we've been the preferred removals firm for so many when moving to Leipzig from London.
Excellent Moving Service
Of course, as hiring the right removal company is an important choice, it's important to note what else we can offer you. We have an excellent packing and unpacking service which is superior to similar services offered by other furniture movers. You can have as many household items as you wish packed in an expert fashion which helps you not just in terms of time but physical effort. It means you can save your energy for other things you may have to do when moving home to Leipzig from London. We can also save you time as well as money when you see our vast range of moving house accessories such as tape guns, mattress covers, removal boxes, wardrobe boxes to name but a few. We are so much more than just a furniture removal carrier. We assist house movers by packing and unpacking, having a supply of essential removal accessories available but perhaps our greatest asset is the fact we can help you so much with advice for your house relocation from London to Leipzig. Our helpful and knowledge staff can assist you organise your house removal and steer you in the right direction in regards to what you need to do and what you'll need.
Life in the City of Leipzig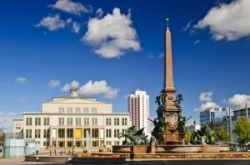 Leipzig is a major tourist destination in Germany which is situated in Saxony around 150km south of Berlin. Apart from being known as the hometown of Johann Sebastian Bach, Leipzig is a commercial and cultural centre with a rich history. With great shopping, a variety of attractions, Leipzig is also a great place to live and work. It has a population of around 510,000 and there are ten districts which make up the city. Leipzig University is one of Europe's oldest founded in 1409. In terms of travel, by train, Leipzig is one hour from Berlin and five hours from Munich.
Our Moving Firm is the Best Choice When Moving from London to Leipzig
It may be you just want a man with a van to Leipzig or you're in charge of office removals or a business relocation. We can help no matter what your individual circumstances are. In fact we customise our removals firm around your personal wishes. It really is an individually tailored removals service you won't find anywhere else. Our aim is to give you the best removals experience possible. It's how we've become one of the most respected and admired removal firms in the country. So why not make an immediate decision and give Moving Service a call straight away so you can have all the information you need to make the right decision and choose us as your removal company. When moving from London to Leipzig, a phone call to 020 8746 4402 may be the one decision which ends up saving you more money than you ever thought possible.