Moving to Portugal

Moving is easy when you are in the hands of a professional removals company because just like when you hire a professional company for any type of services or help, it is always far better to use a professional removals company for the job rather than doing it yourself or hiring an amateur team to do the job for you. Moving from London to Portugal need not cause you any unnecessary hassle or stresses provided that the company that you have chosen is professional and reliable and will not let you down. At Moving Service our services are second to none and so you can have the relocation that you want without having to make sacrifices along the way.
Did You Realise Just How Simple Moving from London to Portugal Is When You Hire Our Company?
When relocating from your London property to your new destination in Portugal, it is important to have the right team of moving professionals behind you along every step of the way relocating isn't difficult if you have an expert team of relocation experts behind you to back you up and support you however, this should not be done alone as moving is a big job and requires a lot of skill and knowledge on the subject. Luckily, our team of professional London to Portugal movers have adequate experience in relocations, removals and everything related to this topic and as our business has been an established firm for many years now we have managed to relocate many grateful, satisfied and happy clients to their new property or premises in Portugal during this time and now we are here now to help you to relocate too.
Great Weather and Beautiful Beaches Are Some of the Things That Make Portugal So Popular
Portugal is a country within the continent of Europe. The official name of the country is the Portuguese Republic, which has a population of around 10, 600, 000 people and covers a total area of 92, 212km2. The capital city of Portugal is Lisbon, which is one of the main cities within the country. In Portugal, the official language spoken by the local people is Portuguese however, as second languages there are other languages taught in schools and for tourism purposes such as English, Spanish and German, as well as others. Portugal is a popular holiday destination amongst tourists from within Europe and from other parts of the world too, as it has a wonderful climate and a great coastline too.
Choose What's Best for You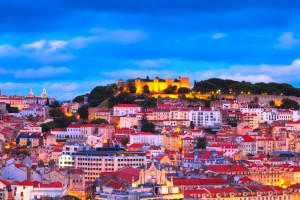 Remember that no matter what anybody tells you this is your move and your move only and we are not here to tell you what you should do or when you should move, as it is purely your decision. We will however advise you on what to do best and how to manage your move and we will also give you extra tips to make your relocation from London to Portugal even better and even more manageable and convenient for you. We do not pretend and claim to work miracles but we can give you moving services that you need your upcoming removal which will not cause you any troubles. Helping you with your London to Lisbon relocation is what we are here to do, as we specialise in convenient and manageable moves and if you need our help any time just make one call to Moving Service ON 020 8746 4402 and we will happily speak to you and help you in any way that we can.