Moving to Nottingham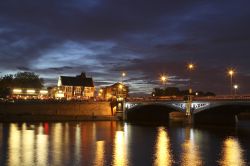 Moving services provided by Moving Service include office moving from London to Nottingham. Call 020 8746 4402 now and let us help you with your office furniture, equipment, records and more. The service of office removals to Nottingham consists of preparations, preliminary visit, removal and if necessary sorting and packaging, transportation of office furniture, loading into the truck, or van, transport to the new site, unloading and transportation, assembly, unpacking and arranging, as well as the disposal of packing materials.
We also offer moving services for relocation to Nottingham of households, which consists of inspection, packing of belongings and property, transportation, loading, transportation of property, unloading, unpacking and sorting, collection and disposal of waste removal. Packing and unpacking your belongings means that our team of movers can pack and unpack your property. You can count on us for all the necessary materials – tape, boxes, paper, textiles, packaging and much more. In cases where we have packed property, we bear full responsibility for the integrity of your belongings. Transport services are carried out by our own transport, our experts can reach anywhere, even in the city center of Nottingham. The trucks are regularly serviced and maintained by specialists in this field. Our task is to provide rapid and reliable transport for your relocation. Moving services include the key activities transfer of property, furniture and equipment, truck loading, unloading trucks, containers and vans.
Moving From London to Nottingham Means That Much Planning Has to Go Into Transporting Your Possessions
Alignment, strengthening and fastening the goods in the vehicle are just some of the services we offer to clients moving from London to Nottingham. Let us handle the movement of property with a large volume and / or weight, transfer of special equipment, fireproof safes, bulky and heavy machinery and more. These services for moving Nottingham are performed by highly skilled movers with good preparation, using belts, ropes, hydraulic machines, and more. Transmission and transportation of pianos and grand pianos is a very specific requirement, requiring attention. For pianos, we provide transportation, using fuses and cables. Supply and installation of furniture and equipment in the office or home is something our movers can help you with. We are also at hand when you purchase new furniture or equipment. We can offer you transfer and installation of new acquisitions. Trust us for quality moving services.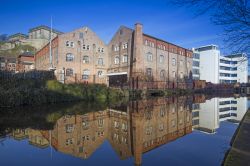 When you are moving from London to Nottingham and in need of moving services, our movers are ready. All services we offer can fully satisfy your wishes. You can take advantage of all our services, or only some of them, such as transport. We only use trucks and vans that have been specifically designed to perform moving services. They are closed vans, waterproof and so on. Depending on your needs for moving services, our movers will offer the best for you vehicle.
Finding a Moving Company in Nottingham
Moving Service will always be aware of the nature of the services needed for moving from London to Nottingham and together we will plan your relocation. Call us on 020 8746 4402 now to arrange meetings to clear up deadlines and time to move, prices, services. If part of your property can not be transferred, in whole, our movers will offer disassembly. The purpose of this is keeping intact your property. Sorting and packaging are some of the key moments of the quality movement to Nottingham. That is the reason why we take special care to them. Transportation, loading and unloading are not only physical activities. Our professional movers are well trained to perform with minimal effort and great care for your belongings. We know that your property is invaluable.