Moving to Randers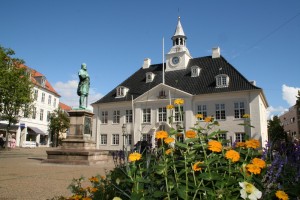 We don't want to say 'think again', but are you absolutely sure that you have covered all your bases? Have you gone over the list again and again to make sure that nothing is left behind? Have you dealt with all your financial institutions, utilities, school transfers and the like? Have you found a new vet for the family dog? It might be tempting to put some of those tasks off until you actually move from London to Randers. But anyone who has moved from one city to another or from one country to another will know that being unprepared in your new home can be a serious challenge. What will you do if you have to pay a major bill upfront but you haven't yet transferred your money? What will happen if you have an emergency medical situation right after you arrive? It's not nice to think about these things, but it is certainly important to be prepared for them in any case.
Think You're Ready to Go on Your Home Removal to Randers?
Have a look around our website. You'll be glad to find all the information you need to get yourself ready for your removal to Randers and you'll be able to decide for yourself which of our fabulous removal services will most benefit your house move. At Moving Service we don't think that moving house to Randers should be a mystery that only the professionals can solve; we believe that the task should be a shared one between us and our customers so that everyone is comfortable with the services they are getting and the prices they are paying. Speaking of prices, ours are quite impressive. Why not ring us on 020 8746 4402 to find out more about how we can help you move from London to Randers, whether with a man and a van or a full removal truck complete with moving supplies and boxes?
Have You Seen the Randers Tropical Zoo
Randers is located on Denmark's Jutland Peninsula, which is in the centre of the country. It is a harbour that occurs naturally on the River Guden and the municipal area, also called Randers, is home to slightly fewer than 100,000 people. This city and its unique location have been an important commercial trade area – agricultural products can be easily transported overland and by way of the river. Interestingly, this former Viking settlement is now home to the largest manmade rainforest in north Europe, called the Randers Tropical Zoo. And the city is full of cultural landmarks such as the Randers Art Museum, Clausholm Castle and he Museum of Cultural History.
Take the Stress Out of Your Randers Move
Whatever your reasons for moving from London to Randers, you probably want the job done quickly. If this is the case, there's only one moving company to call – Moving Service. Our team of professional movers not only work quickly and efficiently, but with great expertise as well. You can have us pack your moving boxes, cover the furniture, roll up the carpets and safely secure your heavy appliances. You can also have us load and transport everything for you. Don't forget that at the beginning of your home removal process, you can hire us for a home assessment so that you will be sure to get the best value for money when it comes to removal services. We can also deliver your packaging materials and moving boxes right to your front door – check out the discounts we offer by ringing us on 020 8746 4402 today and you will also receive a free moving estimate tailored to your removal.